Lebanon / Beirut Governorate
Beirut Governorate
2018
29 April 2018
(International Dance Day)
The International Folk Dance Festival
At the
American University of Beirut (AUB)
Date and time: 29 April, 2018 from 6 pm till 8 pm
Venue: The Green Oval. On AUB campus – outdoors
Title of the event: The AUB Annual International Folk Dance Festival
Participants: school students who take folk dance courses and who are not professional dancers.
Description – Program: At the beginning of each academic year, the AUB starts folk dance classes for dance teachers who teach in schools. Each teacher has a group of students. The number of students in each group vary between 12 and 30. The groups practice 10 folk dances from 10 different countries of the world. The teaching period starts in November and ends in April. The number of dancers is between 200 and 300. This year The festival is scheduled on the last Sunday of April which falls on the date of the International Dance Day. Every year new groups participate. The objective of this activity is to introduce dance to as many people as possible believing that dancing is for everyone and not only for stages and theatres and professional dancers.
Organizers:
Mrs. Marilena Caponis, member of CID (11700) is the dance coordinator and the dance teacher.
Ms. Hiba Hemadeh, coordinator of student affairs at AUB.
For any additional information kindly contact Marilena Caponis
Email: This email address is being protected from spambots. You need JavaScript enabled to view it.
---
2017
7th Annual International Dance Day Festival in Lebanon
March 31–April 8, 2017 7:00 PM
Byblos campus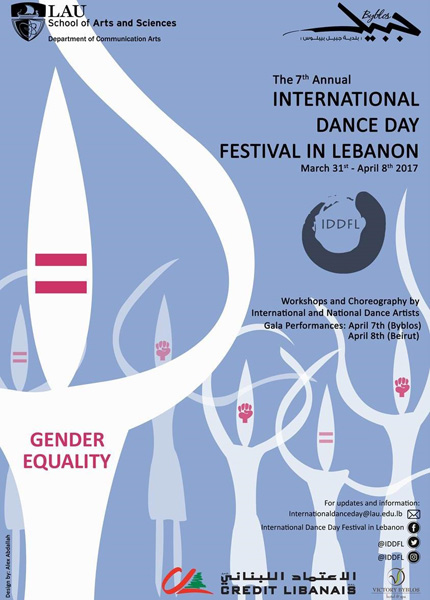 Click here for more details on the schedule of the festival.
---
2015
Date and time of the event: Sunday May 3rd, 2015 at 6 pm
Venue: campus of the American University of Beirut (AUB), Lebanon
Title of event: AUB Folk Dance Festival
Organizer: Marilena Caponis
Participants: schools and universities from all over Lebanon (around 300 participants)
Description-Program: We have 20 groups of students each group is about 12/18 dancers. They will
perform together traditional folk dances from 10 different countries of the world. The dances are
trained by Marilena Caponis who holds weekly training classes for the teachers of each group. What
makes this event special is that it is taught non-paid and the performers are not professional
dancers.
The objective is merely to enjoy "dance "and get introduced to the different folklores of the
world. Every human being has the right to experience the joy of dance. Dance is not only for
professionals or the rich or the lucky people who get the chance to do it. The AUB folk dance
festival leaves an unforgettable trace of happy moments in each participant's life.